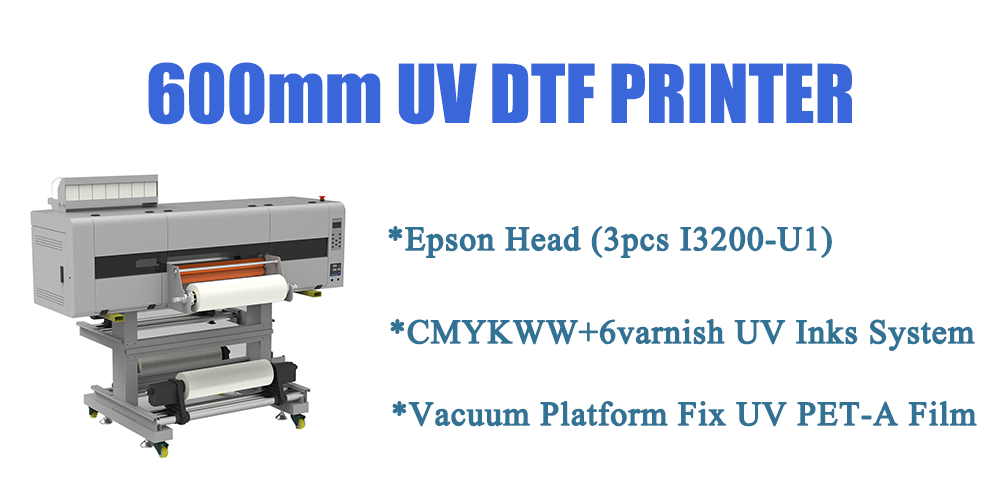 The uv dtf printer is a uniquely designed printer, which uses the AB film as a carrier to print the pattern on the A film, and then attaches the B film through the laminating device, and the ink is quickly solidified by the UV lamp, so that our pattern printing is completed.
After that, the pattern is cut out by a cutting machine, the pattern is glued on the substrate, and the film is torn off to complete the printing.
It has simple printing steps, wide application, adjustable size, short time and good effect.
Special environmental protection UV ink

Gigabit network interface

Temperature: 15-30℃ Humidity: 40-80%

1900mm*1000mm*1500mm 110KG

1960mm*1070mm*750mm 150KG
Automated Operations
In the process of using the printer, there will be no complex operation that we need to control.
Automatically feed the A film, Start the printing, Automatically laminating and collect finsh printed prints.
Printing and laminating arecompleted at one time, eliminating the laminating machine;

High Precision & Printing Speed
We can offer different printheads, Print faster and Manipulate easier.
Control Panel & Heating system & Vacuum platform
The control screen panel is easy to operate and understand.
The temperature can be adjusted manually.
The vacuum platform can fix the film, and the printing process is not offset.
After printing, automatic heating and pressure cover B film.

Intelligent ink detection
Hoson Main board, high precision, fast speed, bright and delicate printing screen
High precision motors and guides
We will provide you instant online support service and free repair service.
Let's see the printing process of UV DTF printing:

1.Print the pattern on the direct transfer film first, and print in the order of white ink. color ink, & varnish.
2.After printing,put the PET film on the direct transfer film. It is recommended to use a laminating machine to press it. Of course, it can also be operated manually.
3.Cut out the desired pattern and paste it on the material to be pasted.
4.Press the pattern repeatedly, slowly tear open the film,finished.
---
Next:
A4, A3, A3+ DTF printer
---