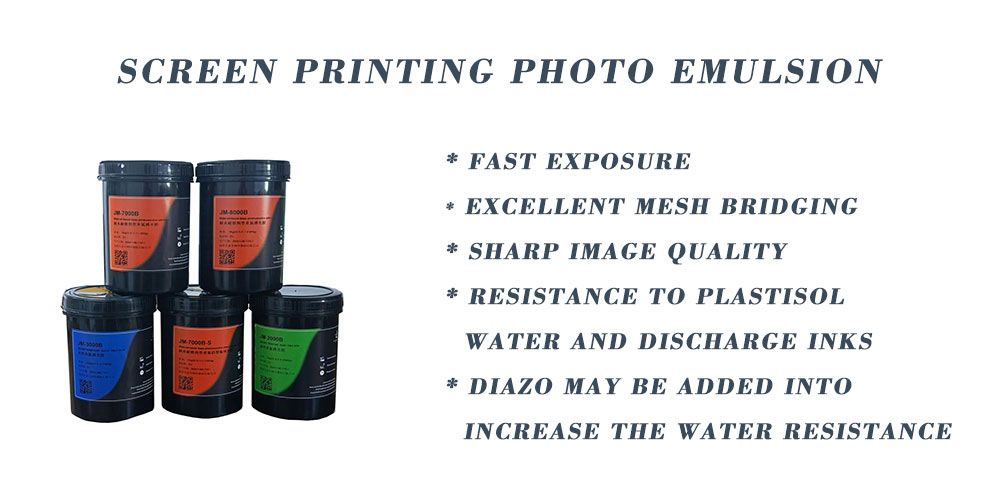 Photo Emulsion glue, it and inkjet printing film are both commonly used photosensitive materials. Photo Emulsion adhesives are generally divided into two types: single-liquid type and double-liquid type. Single-liquid photosensitive adhesives have been mixed with photosensitizers into latex during production. They can be used without preparation. First, put the photosensitizer into water to dissolve according to the formula, then mix it in the latex and stir well and place it for 1-2 hours, until the bubbles completely disappear before use.
Photosensitive adhesives can generally be divided into two types: solvent-resistant and water-resistant.
Solvent-resistant photosensitive adhesive, resistant to various organic solvents, suitable for printing oil-based inks; water-resistant photosensitive adhesive, suitable for printing water-based inks (water-soluble printing coatings, such as textile printing pastes), the former screen can be released. Recycling; the latter generally cannot be recycled by stripping. Special water-resistant photosensitive adhesives include nylon photosensitive adhesives and diazo photosensitive adhesives. The user must select the appropriate photosensitive adhesive according to the printing object and refer to the relevant manual.
Photosensitive adhesives can generally be divided into two types: solvent-resistant and water-resistant. Solvent-resistant photosensitive adhesive, resistant to various organic solvents, suitable for printing oil-based inks; water-resistant photosensitive adhesive, suitable for printing water-based inks (water-soluble printing coatings, such as textile printing pastes), the former screen can be released. Recycling; the latter generally cannot be recycled by stripping. Special water-resistant photosensitive adhesives include nylon photosensitive adhesives and diazo photosensitive adhesives. The user must select the appropriate photosensitive adhesive according to the printing object and refer to the relevant manual. Photosensitive adhesive is a photosensitive material for screen printing plate-making used in direct plate-making, and can also be divided into single-liquid type and double-liquid type. The sensitizer has been added to the latex in the production of the single-liquid photosensitive adhesive, and it can be coated without preparation when used; the sensitizer of the two-component photosensitive adhesive should be dissolved and released according to the formula before use, and then dispersed and mixed in the latex. In latex, it can be applied after defoaming
---
---